Aeroframe Modular
AeroFrame is a unique versatile modular display system. Square tubes and connectors create a vast range of shapes, sizes and design options.
AeroFrame creates superb 'bespoke' structures, clad with large format graphics to give the impression of a solid wall, forming an exhibition stand which projects powerful images and instant brand awareness.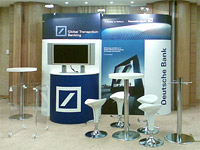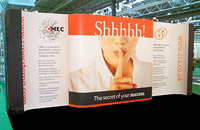 AeroFrame is the ideal solution for all events, including exhibitions, roadshows, displays, product launches, conferences and exhibiting abroad.
This system is extremely cost effective. Savings have been achieved due to reduced labour, transport and production. In fact, a 6m x 3m stand can be transported in a medium size estate car and built by one person.
AeroFrame is totally re-usable, with no expensive refurbishment costs between events. Packages can be tailored to meet your individual requirements.
All graphics are produced by us on the latest large format digital printers, giving a photographic standard of finish. We offer a graphics design service – or just send us your print ready artwork.
AeroFrame can be purchased or hired, we also offer an ongoing management service for transport, installation and storage.
Examples of Design Packages (PDF format. 1.7Mb)
See the AeroFrame Gallery